Keynote
1:00 PM- 1:45 PM
Panel 1: Overcoming Barriers to Action
9:45 AM- 10:45 AM
Women have been at the forefront of grassroots movements fighting for their rights and that of others. In recent in years, we have seen a rise in women-led movements, both in the United States and abroad. This panel will examine how women have overcome barriers to action in order to create a more just and equal society. (Click on the speaker names for more information!)
Panel 2: Engaging Men as Allies
3:15 PM- 4:15 PM
This panel will bring together a group of men who are key allies in the efforts to achieve gender equality. It will expand the conversation on how gender norms affect women and men and empower everyone to be agents of positive change by challenging these norms.
Sharyn Tejani is the Director of the TIME'S UP Legal Defense Fund. Immediately prior to starting this role in April 2018, she served as a Deputy Chief at the Employment Litigation Section of the Civil Rights Division of the U.S. Department of Justice. In that role, she supervised the investigation and litigation of cases on behalf of workers facing sex harassment, pregnancy discrimination, and employment barriers that unjustly screen out women and people of color. Ms. Tejani has spent her legal career working on issues of civil rights and women's rights. Prior to joining the U.S. Department of Justice in 2010, Ms. Tejani was the Director of the Workplace Fairness Program at the National Partnership for Women and Families and the Legal Director of the Feminist Majority Foundation. She also worked at the Equal Employment Opportunity Commission as an Attorney Advisor to Commissioner Stuart J. Ishimaru. Ms. Tejani began her legal career as an honors attorney in the Civil Rights Division of the U.S. Department of Justice. She attended Yale University and Georgetown University Law Center.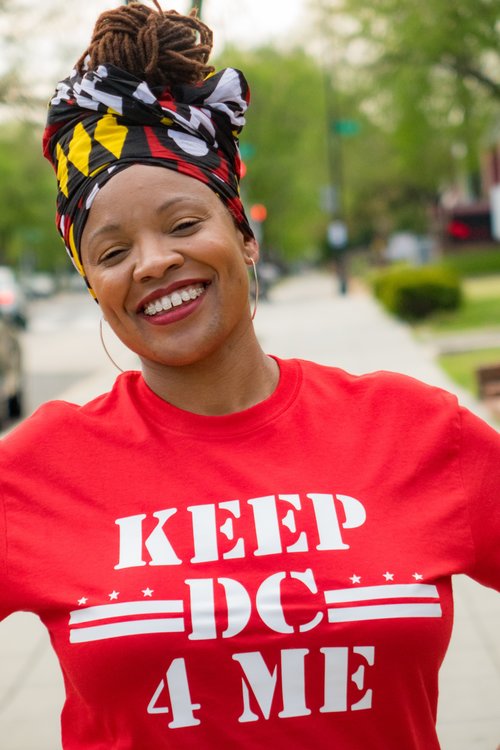 April Goggans became a Core Organizer with Black Lives Matter DC in September of 2015. Her organizing work focuses on community power building, affordable housing and tenants rights, labor, large scale direct action organizing, intra-community violence, policing and police brutality. She recently launched #KeepDC4Me, which is a coalition working to find non-police solutions to intra-community violence in ways that disrupt, confront, and dismantle systems of state sanctioned violence that displace and criminalize Black people through political education, building community power, and direct action. April has been organizing for more than 20 years and almost 10 of those years have been in southeast Washington, DC. Ms. Goggans received her Masters Degree in Clinical Sociology from the University of Northern Colorado. Ms. Goggans holds a Bachelor's degree in Black Studies and Sociology: Social Issues, and a minor in Cultural Anthropology.
Nikki Pitre is Associate Director at the Center for Native American Youth. She is a member of the Coeur d'Alene Tribe and her Indian name is 'kwhele' which means Meadow Lark. As Associate Director, Nikki manages overall operations, grants and reporting, budget processes, oversees the Champions for Change program and CNAY's Youth Advisory Board, and is chief strategist for CNAY's youth engagement initiatives. Additionally, Nikki works with CNAY's Executive Director as part of CNAY's leadership team. Before CNAY, Nikki worked as Student Success Programs Director at the American Indian Higher Education Consortium (AIHEC), where she managed grants and initiatives pertaining to tribal college student success. She also was the Federal-Tribal & Special Initiatives Associate and Advocacy Associate at AIHEC. She brings to CNAY grant and program management, youth and student services, advocacy and meeting planning expertise.Nikki received her bachelor's degree from the University of Washington with a major in American Indian Studies. Nikki stays connected to her culture by learning her language, staying close to family and dancing at powwows. Nikki's daughter, Adela Sage, inspires her to create a positive future for the next generation.
Greisa Martinez Rosas is the Deputy executive director of United We Dream—the largest immigrant youth-led network in the country with more than 400,000 members. In this capacity, Greisa serves a UWD strategist and implements UWD's vision, as the organization continues to build power throughout the country. Greisa began organizing in her hometown of Dallas, TX in 2006 to help young Latinos in Texas register to vote, and has since become a fearless defender of her undocumented community and advocate for the rights of women. Originally from Hidalgo, Mexico, Greisa migrated to the U.S. with her parents at a young age and grew up in Texas. While studying Biology at Texas A&M University, she co-founded the Council for Minority Student Affairs (CMSA). CMSA is the first undocumented youth-led organization in the conservative university's more than 100 year history. Greisa has been featured as a leading voice in the progressive movement and has been featured on many of the top outlets like CNN, MSNBC, The Wall Street Journal, The New York Times, BBC, Telemundo, Univision among others. Greisa is the living embodiment of the United We Dream spirit—transforming personal adversity into personal power and hope that has inspired thousands into action.
Rafif Jouejati is the Founder and Director of the Free Syria Foundation. A management consultant by profession, she joined the Syrian revolution in 2011. Since then, she has been accused of being a radical Islamist, an Israeli agent, a puppet of the West, and an Al Qaeda operative – sometimes all in the same breath. Nonetheless, Rafif has been working with a variety of Syrian groups – political, civil society, and humanitarian – to achieve common goals: expose human rights abuses, prosecute the perpetrators, bring about democratic change, and ensure equality for all in a secular Syria. She has served as a spokesperson for multiple organizations, including for the activist network of the Local Coordination Committees in Syria and the SOC during the Geneva II peace process. In those and other capacities, she has frequently pointed out uncomfortable truths about the international community's response – or lack thereof – to the situation in Syria. Trained in nonviolent organizing tactics, Ms. Jouejati advocates for a free, democratic, and secular Syria. Rafif is also the director of the Foundation to Restore Equality and Education in Syria, an organization dedicated to women's empowerment through education. She is a member of the Syrian Women's Political Network. Rafif serves as a member of the board of The Day After Association in Istanbul, and the head of the board of Baytna-Syria in Gaziantep.
Gary Barker is the CEO and founder of Promundo. He is a leading voice in engaging men and boys in advancing gender equality and positive masculinities. Gary is co-founder of MenCare, a global campaign working in 45 countries to promote men's involvement as caregivers, and co-founder of MenEngage, a global alliance of more than 700 NGOs. He created and leads the International Men and Gender Equality Survey (IMAGES), the largest-ever survey of men's attitudes and behaviors related to violence, fatherhood, and gender equality. He is a co-author of the 2015 and 2017 State of the World's Fathers reports. He has advised the UN, the World Bank, numerous national governments, and key international foundations and corporations on strategies to engage men and boys in promoting gender equality. In 2017 he was named by Apolitical as one of the 20 most influential people in gender policy around the world. He holds a PhD in Developmental Psychology.
Ron LeGrand is an attorney and CEO of the LeGrand Group, LLC, which provides consulting services with a focus on gender-based violence, legislative affairs, and criminal justice reform. Ron has co-authored a Domestic Violence Awareness Month op-ed in Ebony, appeared on television regarding domestic violence, and was one of several planners and presenters at the "Band of Brothers" event for engaging men in conversations on domestic violence, sexual assault and healthy masculinity. Ron's career includes 20 years in federal service, including as a Special Agent with the DEA, Special Narcotics Prosecutor, and Counsel to the House Select Committee on Narcotics and Dangerous Drugs. Previous experience also includes Chief Investigator and Counsel with the Senate Judiciary Committee and Counsel to the House Judiciary Committee, during which he served as lead Democratic Counsel on the Violence Against Women Reauthorization Act of 2013 and as lead Democratic Counsel on the House Committee on the Judiciary's Over-criminalization Task Force.
Manuel Contreras-Urbina is the Director of Research of the Global Women's Institute at the George Washington University. He has more than 20 years of experience in gender and women's rights research and programs. He previously served as National Programme Officer at UN Women in Mexico. Dr. Contreras-Urbina worked as the coordinator of the Gender, Violence and Rights portfolio at the International Center for Research on Women (ICRW) and as a research associate at the UNFPA Country Support Team for Latin America and the Caribbean. He has published widely in the areas of violence against women and sexual and reproductive health. Dr. Contreras-Urbina earned a PhD in Population and Gender Studies from the London School of Hygiene and Tropical Medicine, a Masters in Demography from El Colegio de México and a Bachelor's degree in Mathematics and Actuarial Science from the National Autonomous University of Mexico.
Laxman is the Global Networks Manager at MenEngage Alliance. He is a social worker and gender justice activist, with Master of Science degree and more than 12 years of experience in program development, implementation and advocacy in the field of gender equality, child rights and social justice at national, regional and global levels. Prior to joining MenEngage, Laxman worked for Save the Children Sweden for seven years as Global Gender & Health Advisor and represented Save the Children on the MenEngage Global Governance Board. Laxman is a founding core group member of MenEngage Alliance in Nepal and has contributed to the strengthening of the Alliance in various capacities at national, regional and global levels, including by coordinating MenEngage Alliance in South Asia.